นิยามการทำความสะอาดของคุณใหม่ด้วยโซลูชันการทำความสะอาดจาก Avidbots
When was the last time your team evaluated your facility's cleaning operations?
Has the way your team cleans your facility floors changed in the last 5, 10 or 20 years?
If the answer is no, then it's time to evaluate what's out there.
If the answer is yes, are you taking advantage of the latest technologies available to deliver the best clean possible?
In the wake of the worst pandemic in the last 100 years, it's time to re-evaluate all aspects of your facility's cleaning strategy. This includes the largest surface area that requires regular and consistent cleaning: the floors.
Did you know the floors are often responsible for the transfer of viruses including COVID-19?
For an optimal floor clean, your facility needs oversight, productivity, safety, accountability and most importantly, a plan — the Avidbots Cleaning Solution delivers that and more!
It's time to change the way you think about floor scrubbing and redefine your cleaning operations.
The Avidbots Cleaning Solution will help you take on the increased demand for consistent, frequent and high-quality cleaning and sanitization while leaving your customers, your employees and your business with something to confidently smile about.
The Avidbots Cleaning Solution includes:
Avidbots Customer Success
Neo
Neo has been engineered from the ground up to deliver the highest in quality with industry-leading technology and software, reliability and serviceability.
By tackling the time-consuming and tedious job of scrubbing floors, your team is free to concentrate on value-added or business-critical tasks. Our fully autonomous floor scrubber is powered by Avidbots Autonomy, which features dynamic planning and advanced real-time obstacle avoidance. What this means for your facility is that Neo can operate in a dynamic environment, avoiding anyone or anything. Combined with advanced diagnostics and Avidbots Real-Time Monitoring and Remote Assistance, Neo is unmatched in autonomy, navigation and safety, delivering a fully autonomous clean. Learn more here.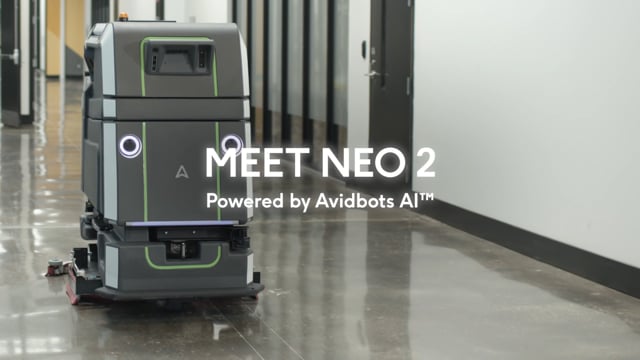 Avidbots Command Center
The Avidbots Command Center provides you with a level of oversight and performance measurement that you won't find in other commercial floor scrubbers.
With the Avidbots Command Center, you'll be able to understand fleet performance at a glance through configurable cleaning targets to define success and transform data into meaningful results, optimizing your cleaning operation. Additionally, with the Avidbots Command Center, you have real-time video monitoring of your Neo(s) for full transparency into operations when you're not there.
While Neo's AI navigation leads the industry in adapting to highly dynamic environments, all robots will eventually get stuck when significant environmental changes or blockages occur. What happens then? Avidbots' Remote Assistance service supports every Neo robot 24/7/365 with a dedicated Avidbots team, who are on standby for each cleaning operation around the world in real-time, tracking Neo as it cleans. Should an issue occur, our experts can remotely assist Neo in getting back on track using the onboard cameras. Learn more here.
Avidbots Customer Success
With every Neo deployed, Avidbots provides world-class customer service at a level never seen before in the industry.
Our factory-trained technicians will be there through every step of the deployment at your facility: creating cleaning plans, training your staff, maintaining Neo and helping you become proficient with the Avidbots Command Center. And our support doesn't stop there! Because Neo is a connected robot, our Customer Success Team monitors your Neo, working with you to continuously improve based on changing environments, construction, temporary obstacles, weather and traffic patterns. When you own a Neo, you become part of a larger team dedicated to achieving your optimal clean. Learn more here.
While there might be many processes happening under Neo's hood, we want to ensure you have a platform with the right combination of hardware, software and services, delivering the best fully autonomous clean in the industry.
At the end of the day, our goals for your team (and every Avidbots partner), include:
Increasing your organization's productivity
Increasing your cleaning productivity through improved processes
Providing a measurable, consistent clean that can be optimized over time
With the Avidbots Cleaning Solution, your team can focus on higher-value, business-critical tasks while increasing your organizational productivity.
Want to further discuss how your team can increase your organization's productivity with Neo and redefine your facility's cleaning operations? Get in touch.
Related articles
Subscribe to the Avidbots blog!
Stay in the know about all things Avidbots plus the latest industry and technology insights.